Entertainment
new game on Unreal Engine 5 confirmed by Eidos with Embracer? Not really – Nerd4.life
Update Various sources stand disproving the report made by Shacknews and other sites from the financial conference on Eidos Montreal and Embracer Group: it seems that the reference to Deus Ex was exclusively linked to the presentation of the team history and there have been no precise references to a new chapter in development on Unreal Engine 5, although the idea is that the team intends to point to its historical intellectual property anyway.
Original article:
After the acquisition by Embracer Group, Eidos Montreal confirmed that the next project will be Deus Exwith a new game being developed on Unreal Engine 5according to reports from the head of the firm at the recent financial conference.
"Right now, we are crazy people who have decided to revive Deux Ex intellectual property as our first game," he said. David Anfossihead of Eidos Montreal Studio, in the conference to present the acquisition by Embracer Group.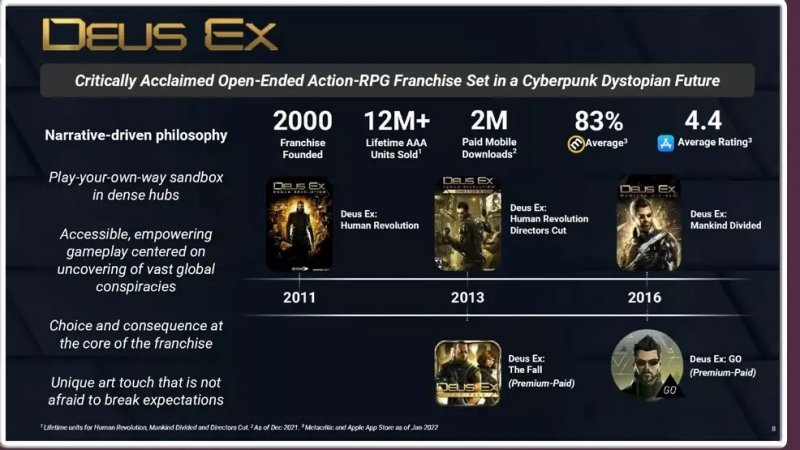 "A new team, a very complex production, a new technology and a new study: a simple challenge", added ironically Anfossi, who nevertheless demonstrated a great enthusiasm for the new situation in which his team will be found.
The manager of Eidos Montreal pointed out that the new Deus Ex, as well as the new Tomb Raider, will also be based on Unreal Engine 5. He also showed the story and the results of Deus Ex (reboot of the historical series) with a slide to Embracer Group, proving to be strongly committed to relaunching the sci-fi action RPG game.
While there is still nothing concrete to see, these statements and Anfossi's attitude demonstrate a drastic change in the plans of Eidos Montreal within the new reality of Embracer Group with respect to the situation in Square Enix. Faithful to its policy demonstrated so far, the Swedish giant seems to want to leave creative freedom to its teams, which Eidos has seized on the fly by immediately proposing the return of Deus Ex, which seemed impossible under the Japanese publisher until recently.